Happy Holidays for Your Business
W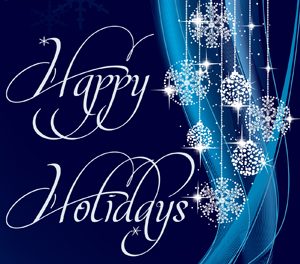 e have finally arrived at the holiday season. Celebrations abound for those who choose to celebrate. Is your company celebrating this year? I don't mean are you having a Christmas party or handing out year-end bonuses, but is your company really celebrating another year in business.
The Christmas/New Year holidays is a great time to celebrate what your business has accomplished the past year. The key is to get everyone involved from employees, vendors and customers. This means kicking your marketing/advertising plan into full gear to get the most out of your celebration.
Look for every opportunity to put the message out there that your company had a great year and is celebrating the results. I think this opportunity applies to every business, whether sales or profits are up or down. There are two important considerations at work here. First, the morale and enthusiasm of your employees must be cultivated and maintained. Secondly, the image of your business with your vendors and customers must always be positive. Your celebration message must be strong and celebratory, regardless of your actual results.
If your annual results are not stellar then look for other successes to celebrate. You can celebrate the accomplishment(s) of one or more employees. An award or recognition that was given to your company. The purchase of a new piece of equipment or the opening of a new facility. There is always something positive to celebrate and share with all those who are connected directly and indirectly with your company.
Start your celebration if you have not already done so by listing to The Weekly Business Hour broadcast this Monday December 26th from 11:00am – 12:00pm on Lone Star Community Radio. You can listen live at www.irlonestar.com and FM 104.5 and FM 106.1 or you can tune into the podcast after Wednesday December 28th by going to The Weekly Business Hour page on irlonestar.com or on Facebook on The Weekly Business Hour page: https://www.facebook.com/theweeklybusinesshour