Grow Your Business From Day 1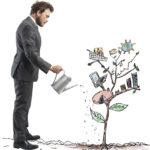 At first glance, the topic of this blog may seem a bit self-evident. Every business starts to grow in one way or another the first day it opens for business. My point in this article is we all want to grow, but how do you want to grow? Are you seeking a path to grow that goes more or less straight up or do you want to be a bit more conservative and grow say 10% to 20% a year? Regardless of where you peg your growth path, you should do so before you open for business.
I have talked or blogged before on how you and your business should be in sync or match-up in personality. If this is not the case then you will have at best a business that will grow very painfully or not at all. One of the characteristics or personality factors the business owner and business should share is the ability of the business itself to grow. Certain business or industries are geared in general to higher growth rates. Don't set out to open a single candy store if you want to make millions; leave that for the owner of a chain of candy stores.
More importantly you need to project your growth so that you can make sure you have the necessary resources available when you need them. How many times have we heard the story about how a great business idea did not get off the ground for a lack of capital? Capital is only one of the resources a business needs to grow.
There are 3 resources that you must have to fuel up your growth engine. First, there is the capital you need to feed the "burn" that your will have especially in the beginning before your start flowing positive cash flow. Too many business start-ups have enough capital to open the doors but not to fund the business the next day, week, month or year. A thought full, well-done cash flow projection will assist you in understanding how much and when you need capital to keep the growth engine moving.
Second, you need the all-important human resources that are required for you to grow and to become successful. One can have all the money in the world to fund their new venture, but without the right people in the right positions once again the engine will sputter and probably die. In addition to your cash flow plan, a human resource or HR plan will help you map out when, whom and where you need that all important human capital.
I will talk about the third resource you need on my upcoming show on The Weekly Business Hour on Monday April 9th from 11:00am – 12:00pm CST on www.irlonestar.com , the Lone Star Community Radio app, or on Conroe City Radio at FM 104.5 & FM106.1.
You can also find the podcast of the show (posted on Wednesday April 11th ) by going to The Weekly Business Hour page on www.irlonestar.com  or on Facebook to The Weekly Business Hour page: https://www.facebook.com/theweeklybusinesshour . The podcasts are also posted weekly on Wednesdays on YouTube on The Weekly Business Hour channel and on other social media outlets such as Stitcher, Google Play and ITunes.
If you have questions or comments then please email me at 1bestconsult@gmail.com