Follow-Up on Building Your Business-Part I?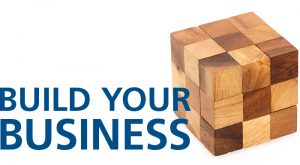 How do you go about building your business? Many of us use previous learning such as what we learned from school, books, or "experts" to direct our building process. I suspect a larger number just jump in and start building their business. Yes, they may take a class and or read a book, but if you talk to them they have a difficult time relating almost anything in their business building process to what I call formal learning.
Ok. How should you go about building your business? First, I believe the building process is a lot more personal than many people think. An owner operated business generally reflects the personality of the owner; particularly in its early years. This can be a good or bad thing based on how your personality fits the business you are trying to build. For example, if you have chosen to build a service business and your personality is not especially "service driven" then you are going to have a difficult time building a successful service business. Therefore, the first step in building a successful business is for the builder to make sure it fits their personality.
One of the ways to do this is to develop a "Personal Profile'. The 'Personal Profile' is a process developed by a fellow Silver Fox Monte Pendleton. The Profile process is a series of thought-provoking questions that leads the participant to the answer of 'Who am I?". The successful development of your own profile and the realization or reaffirmation of what exactly it is that you are looking for sets the stage for a successful build.
I believe that the successful internal search for what it is that you as a business owner and an individual want out of life, the business, and for your family is an absolute must if you hope to build a successful business. As an aside, how can one build a successful business if they do not really understand what success means to them. Many business builders miss this opportunity to define their own success and thus they are unable to ever fully realize success.
Unfortunately, too many business builders do not take the time to evaluate their own needs, wants, goals, etc. before they start building. This leads to frustrations and sometimes unnecessary conflict. Basically, they have set themselves up to simply be in the wrong place. A good or better fit is always possible whether at the beginning of a new business venture or years into the business. I submit that without this look at oneself that money, time and other valuable needs will be left "on the table."
Next week I will continue with "Building Your Business-Part II" where I will explore some of the basic steps you should take to build the strong foundation needed to build a successful business on.
If you would like more information on the "Personal Profile" then please email me at bestconsult@gmail.com
If you would like to learn more about how to build a business, you can find my podcasts by going to The Weekly Business Hour page on www.irlonestar.com  or on Facebook to The Weekly Business Hour page: https://www.facebook.com/theweeklybusinesshour. The podcasts are also posted weekly on YouTube on The Weekly Business Hour channel and on other social media outlets such as Stitcher.