Past and current Presidents toast to the 30th Anniversary of the Silver Fox Advisors
30th Anniversary Luncheon Celebration – Silver Fox Advisors
As I have many amigos that are Silver Fox Advisors, I decided to make my reservation way in advance to make sure I got a seat for this event. Because of the extra attendees, the event was in the large banquet room, in lieu of the smaller regular meeting area where their "normal" luncheons are hosted.
The meeting was brought to order by James Griffing, current Silver Fox President and then handed over to Richard Hendee, vice-president of the group.  Richard shared some of fascinating details of the formation of the Silver Foxes, exactly thirty years prior to the date of the Luncheon today.   Sylvester Turner, Mayor of the city of Houston, sent a proclamation declaring July 28, as being Silver Fox Day.   Governor Abbot sent an official state of Texas Recognition acknowledging the anniversary.  County judge Ed Emmott sent a certificate of appreciation to acknowledge the event as well.
Dan Parsons, President of Houston Better Business Bureau took the podium and acknowledged the group for the contributions and support to the BBB and the metro Houston community at large. The Silver Fox advisors serve as judges for the BBB's annual Awards for Excellence and Pinnacle Awards. The group also is an active supporter of the Prison Entrepreneurship Program better known as PEP, as well as participants in the mentoring and judging of Houston Community College's (HCC) Spring Branch Campus Business Plan Competition.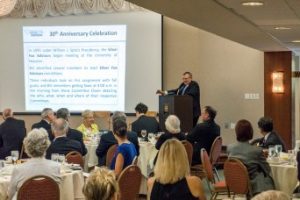 VP Hendee made an additional proclamation . . . Stating that July 28 was also Monte Pendleton Day, in honor of founder Monte Pendleton.    Monte's wife Linda, grandson Hayden and son Scott were at the front table as Monte stood up to receive kudos and say a few words about the occasion.   At this point Hendee announced that he was going to interview Monte.   Both sat on chairs on the stage as Hendee asked Monte several questions about his thoughts at the time of the formation of the Silver foxes, comments on milestones and his thoughts the inception versus the reality of the group today.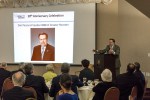 As usual the food was fabulous and the desserts delightful.   The camaraderie, fellowship and good feelings overflowed through the large room and many stayed after the meeting was over to congratulate Monte and to visit and enjoy the afterglow of the meeting as well as reconnect with old friends.
Check out the photographs below.  They were taken with my omni present Sony a6300 mirrorless camera.    Available light only no flash.   The a6300 was released by Sony In March of this year and has become one of my favorite cameras.   Its lightweight and compact design make it my go-to choice for photographs at meetings, events as well as spontaneous photography.   My larger, heavier pro canon gear stayed in the storage locker.   I also get much better results with it over iPhone images.   Okay, enough pontificating about Sony!

Article by Sylvester Garza