Let the Celebration Begin – You and the Success of Your Business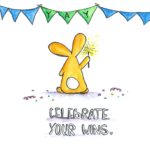 We all like to celebrate in one way or another our life's accomplishment. Take for example your birthday. We all one every year and in most cases, we enjoy the recognition by friends and family of this important event. The party and the gathering of celebrants is wonderful, but what really appeals to most of us is the recognition we personally receive from the event. If for just a moment we are the center of attention and let's face it, we all like to celebrate the simple accomplishment of another year of life.
My question is why don't we feel the same way about our businesses? We all accomplish many things in our business, the least of which is another year in business. Why don't we at least celebrate this one great accomplishment? Let's face it being and staying in business is challenging. Growing and being successful in a business is even more challenging. I say there is a real cause for celebration in every business at least once a year.
Celebrating the successes of your business is one of the if not the best way to tell your employees, customers and vendors that they are connected to a great business. In this case the ego of being the center of attention of the celebration is spread around to all these groups. Each group: employees, customers and vendors have a chance, if you do it right, to be drawn closer and become more loyal to your business.
In the New Year I encourage you to make a resolution for your business to look for more opportunities to celebrate. Look at employee/customer/vendor birthdays, reaching production or service goals, and reaching new sales milestones as opportunities to share the joy and happiness of shared success. Make these celebrations significant so that the group(s) involved know and feel like they are an significant part of your enterprise.
Please tune into The Weekly Business Hour each Monday from 11:00am – 12:00pm CST on www.irlonestar.com , the Lone Star Community Radio app, or on Conroe City Radio at FM 104.5 & FM106.1 to hear more of my Common Sense Experience for Business.
A podcast of the show (posted each Wednesday) can be found by going to The Weekly Business Hour page on www.irlonestar.com or on Facebook to The Weekly Business Hour page: https://www.facebook.com/theweeklybusinesshour. The podcasts are also posted weekly on Wednesdays on YouTube on The Weekly Business Hour channel and on other social media outlets such as Stitcher, Google Play and ITunes.If you enjoyed reading this article, please recommend and share it to help others find it!
If you and your business can use some Common-Sense Experience then please subscribe to our newsletter.