Who Makes Up The Planning Team?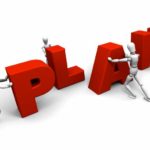 The answer to that question would seem to be easy if your business is a sole proprietorship and you are the only employee of the business. You are the planning team. Let me suggest that may not be the best answer. Even if you consider yourself a team of one, there are others that can help you develop a better business plan.
A good place to start is with organizations in our community or online that offer advice, many times at little or no cost. The Small Business Administration is one such organization that offers basic business planning guidance on its website. Another resource might be your local chamber of commerce. The Greater Conroe/Lake Conroe Chamber of Commerce, of which I am currently a board member, offers a range of educational courses, including business planning, to its members. Your professional advisors, such as your CPA or attorney, can also be a great resource, in particular if their practice focuses on small businesses.

I personally work with all my clients to develop a business planning process that they can use year after year, regardless of their size. A good business plan gives the business the accurate roadmap it needs to succeed. The addition of a mentor to your professional advisors will give you a tool that you can use for business planning assistance as well as assistance with the full-range of business issues that challenge every business.
If your business has one or more employees, even a part-timer, you now have the making of an in-house team. I encourage you not to discount the one employee whose perspective and experience is different than yours. They can offer a point of view on sales, customers and other subjects that can help you to develop a stronger business plan. You only have to ask and I find most people are willing to offer their point of view. Add them to the team and use their point of view to your businesses' advantage.
The question of using a team when you have multiple employees and a management team is one that is talked and written about on a regular basis. The first rule is to select team members with diverse strengths and experiences. The obvious choices are the heads of departments, but also look to add one or two others who are interested and can add to the diversity of opinion of the group.
If you would like to hear more about "WHO MAKES UP THE PLANNING TEAM" you can listen live to The Weekly Business Hour on Monday January 29th from 11:00am – 12:00pm CST on www.irlonestar.com , the Lone Star Community Radio app, or on Conroe City Radio at FM 104.5 & FM106.1.
You can also find the podcast of the show (posted on Wednesday January 31st ) by going to The Weekly Business Hour page on www.irlonestar.com  or on Facebook to The Weekly Business Hour page: https://www.facebook.com/theweeklybusinesshour. The podcasts are also posted weekly on Wednesdays on YouTube on The Weekly Business Hour channel and on other social media outlets such as Stitcher, Google Play and iTunes.
If you have questions or comments then please email me at 1bestconsult@gmail.com