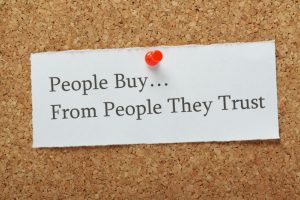 Trust can be everything in a business transaction. If your customer or client does not trust you and or your product or service, then the chances are they will not do business with you. The level of trust that a potential buyer needs to do business with you can vary. If you position yourself as the low-cost alternative, then the level of trust needed is lower. On the other hand if you are seeking a premium price then you must develop a much higher level of trust with the buyer in order to get them to do business with you. People buy trust and there is no way to escape that fact.
The fact that people are buying trust means as a business you must sell it. Every contact, communication and opportunity to be in front of the potential customer must say something about why a buyer should trust you. Again, the amount of trust you must convey to the buyer is guided by where you position yourself in the market as well as what each individual's "trust requirements" are. Obviously you cannot customize every offering of your product or service to fit each individual prospective customer; but you must analysis your market to determine what the broadest group of potential customers are looking for in order to make a purchase. Once you know how much trust your market is looking for then and only then can you develop a marketing plan that includes the needed trust factor to successfully sell into that market.
If you would like to learn more about "Can I Trust You?" and why answering this question is critical to the success of your business listen to The Weekly Business Hour broadcast for the week of February 20th.  You can find the podcast at the Lone Star Community Radio website at http://irlonestar.com/twbh/ ; or on Facebook to The Weekly Business Hour page: https://www.facebook.com/theweeklybusinesshour; or on our YouTube channel at https://www.youtube.com/watch?v=jMRvUxhVKFE&t=4s
Also you can catch our next live show on Monday February 29th from 11:00am – 12:00pm on Lone Star Community Radio. You can listen live at www.irlonestar.com and FM 104.5 and FM 106.1. Look forward to seeing you this coming Monday!