It's About Time You Looked at Your Prices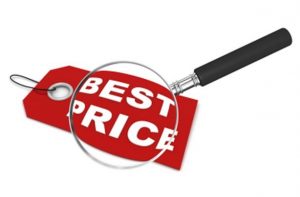 Well we have almost reached the end of another year. How did your business perform this past year? Did you leave some money on the table? I suspect that most of you did because in my experience raising prices is one of the most difficult task for most business owners.
As you beginning your planning for 2017, I suggest that one of the steps be to look at your pricing. The cost of doing business went up in 2016 whether it be occupancy cost such as rent, utilities, or insurance; the cost of materials and products; and yes the cost of labor if not in wages in benefits such as health insurance. You can typically recoup these cost increases in one of three ways: 1.) increase your sales or 2.) raise your prices or 3.) do a both. When it comes to pricing your products or services you should always strive to get a fair price that supports your business model.
There are a number of formulas or methods you can use to analyze your price. The simplest is one that is based on Cost. You just need to add up your cost to produce your product or deliver your service and then apply a markup to arrive at a price. Unfortunately, I have found that many times business owners are using a mark-up that is inadequate or just too low. It seems that they don't really know how to value their product or service.
Are you ready to analyze your price to make sure it is where it needs to be so your business can thrive? Here more about this topic on The Weekly Business Hour broadcast this coming Monday December 12th from 11:00am – 12:00pm on Lone Star Community Radio. You can listen live at www.irlonestar.com and FM 104.5 and FM 106.1 or you can tune into the podcast after Wednesday November 30th by going to The Weekly Business Hour page www.irlonestar.com/twbh  on irlonestar.com or on Facebook on The Weekly Business Hour page. https://www.facebook.com/theweeklybusinesshour/